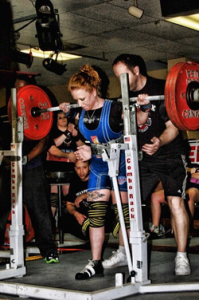 In 1997 while lifting at a YMCA in Daytona Beach, Florida, I was approached by two guys who invited me to a powerlifting meet.  "You're strong." they said.  "You should come and lift".  I went, and ended up winning the teenage and open divisions at 17 years of age.  The very next month I tore my ACL (first of several times) and did not compete again until nine years later.  Although only in the sport a brief time, it impacted me in a way that would change my future.
In 2005 I underwent several major abdominal surgeries, and due to a heart problem had lost 25 lbs.  I wanted to get strong again, so I typed "powerlifting meets Seattle" into my search engine and found a link to USAPL in Washington.  The 2006 state meet was coming up and I was determined to compete.  I trained, practiced my lifts, studied the rules and purchased my singlet.  I won the bench-only division in the 52 kilo class.  More importantly, I met several people who proved to be integral in my powerlifting career (Kevin Stewart, Faith Ireland, Paula Houston, Todd Christensen, Bull Stewart and Willie Austin).  I competed regularly in bench-only until late 2007 when I decided to try full-power.  My first equipped total was 777 lbs in the 56 kilo class.
In 2008 I was told I had large tumor in my T8 vertebra.  Eight days later I competed in the inaugural Raw National Championships in St. Louis, Missouri.  I loved raw lifting and felt better when I was lifting than when I was not!  Later that year I found out I had been invited to the Arnold Sports Festival to compete in the Con-Cret Raw Challenge.  I asked my doctors if I could postpone treatment until after I competed and they were actually fine with the idea.  Treatment was radiation done inside the vertebra and would have taken me out for several months.  With renewed spirits I trained like I had never trained before.  And on competition day I set raw American Records in squat, deadlift and total.  One month later I found out the tumor in my spine had shrunk.  I jokingly say squats saved my life!   I ended up competing at the Arnold in 2009 and 2010 in the raw division and in 2011 in the equipped division.  I've placed second each year I've gone.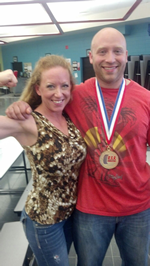 In 2010, after qualifying for equipped nationals with a raw total, I won my first Open National Championship in the 56 kilo class and subsequently went to the IPF Open World Championships in Potchefstroom, South Africa.  I placed 7th in a very competitive grouping, but came back with much more than a medal.  While there, I met my future husband and fellow World Team member, Erik Kasabuske.  It was love at first sight and we were married ten months later.
In 2011 Erik and I both competed at the IPF Open World Championships in Pilsen, Czech Republic.  This time as a married couple!  We both placed 9th in stacked fields.
I thoroughly enjoy competing, learning, and growing as a lifter.  I have developed a passion for coaching others and often have many guests in my fabulous home gym – The Sanctuary.  Recently I took my referee exam and sincerely look forward to contributing to the sport with fair and accurate judging and adherence to the rules.  I am also a proud member of the Wisconsin USA Powerlifting Advisory Group.  Competing in Wisconsin has truly been a pleasure.  I am thankful for the influences of so many and am looking forward to my next competition, the 2014 Arnold Sports Festival.
Best Competition Lifts at 56 kilos (123lbs):
Squat:  390 lbs
Bench: 214 lbs
Deadlift: 418 lbs
Total: 986 lbs