Statistics
Hometown: Milwaukee, WI
Weight Class: 148
Athletic Accolades
First Elite Total 2004 USAPL Badger Open in Whitewater, WI
Second place USAPL Nationals 2010 in Cleveland, OH
North American Strongman National champion 2010 as LW and 2011 as MW
Forth place Arnold Classic Open Powerlifting in 2012 and 2013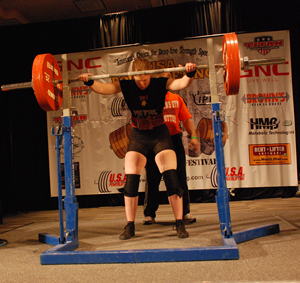 Introduced to powerlifting in high school, Erin Walterman never looked back. During her career she has competed in equipped, raw, and bench only contests. Between 2001 and 2013 she competed in five National Championships and two Arnold Classics.
Through a local gym she met great group of people who took her under their wing and trained her in strongman. Thanks to this support, she was able to attend and win two National Strongman championships.
Currently Erin is focusing on raw powerlifting and training for the Indiana Powerfest on October 12, 2013.