"Champions are made from something they have deep inside them – a desire, a dream, and a vision."

Muhammed Ali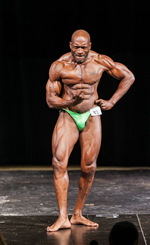 At age 14 my mother bought me a weight set. Living in the projects of South Chicago, I needed muscles and strength to protect myself and my family. I learned Judo, was captain of Chicago's South Shore High School Varsity Football Team and was high school citywide wrestling champion.
In 1990 I entered my first bench press competition at the West Allis Racquetball Club. I got my first trophy and was hooked. Weightlifting became my dream, my life, and my hobby.
Soon after, I entered the "King Classic" bodybuilding competition and placed 5th out of 5. I asked the judge how I could improve and he told me "You have the best back but need to work on your legs".     He encouraged me to squat and deadlift to build up my legs.
Powerlifting and bodybuilding go hand in hand. Being a Libra, I balance the scale of both sports staying ready for either platform at all times. I don't take a lot of supplements or go on extreme diets to prepare for competition. I eat like a bird and train like a beast. I get my protein and balanced diet in after my workout. Balancing both sports demands focus; a desire, a dream, a vision.

At 50 years young, I compete raw and natural in both open men's and master men's divisions. I enjoy the deadlift since it uses muscle groups that enhance bodybuilding. (Bodybuilders who also powerlift have huge backs, shoulders and quads!) I'm working towards earning my pro card in bodybuilding.
The sports of powerlifting and bodybuilding are my passions and my life is devoted to helping others obtain their dreams. My certification is with ISSA (International Sports Science Association). I make a living as a personal trainer and coach at the Animal House Gym, Kosciuszko Community Center and King Center in Milwaukee. Strength training not only improves health and strength but it produces self-confidence and teamwork. Sometimes I compete side by side with my clients to share the passion of the sport.
I've been told that I "bring fire" to the competition.   Making noise and getting fired up brings on an adrenaline rush that increases blood flow to the muscles and give the body a burst of energy.   I have an enthusiasm for the sport and love for those I coach that I cannot suppress.
My goal is to continue to work with others sharing my passion for the sport and to obtain employment with the NFL in a strength training position.
2012-2014 Athletic Accolades:
2012: APA Raw Nationals; DeFuniak Springs, Florida: American and World Record Deadlift (Master Men's 45-49,181 Wt Class)
2012: WABDL Worlds; Las Vegas, Nevada: 2nd Place Master Men's 181 Wt Class Deadlift (47-53)
2012 & 2013 Wisconsin State Fair Bodybuilding: 1st Place Master Men's
2013: WABDL World Cup; Wisconsin Dells, WI: 1st Place Master Men's Deadlift (181 wt. class, 47-53)
2013 WABDL World Cup; Wisconsin Dells, WI: Best Lifter Award; 181 Open Men's and Master Men's Deadlift
2013 Ford's Gym; Madison, WI: Natural Bodybuilding Competition: 1st Place Master Men's 50+, 2nd Place Open Men's Light Heavy Wt. Division
2014 USAPL Wisconsin State Open: State Record Deadlift and Push/Pull: Raw Master Men II (50-54) 181 Wt. Class
2014 NASA Powerlifting: Nominated for "Coach of the Year" Award