Lauryn was the recipient of the Wisconsin USA Powerlifting Inspirational Athlete, she was nominated several times over and a very deserving recipient.  For those of you who are not aware of Lauren's story, here is a chance for you to learn more.
---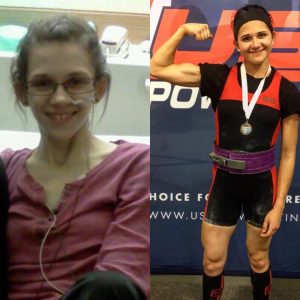 My name is Lauryn Cudworth, I'm 20 years old, and this is the behind the scenes looks of who I am. What you will read below is a piece of writing from my personal blog, and will all make sense in the end, so bear with me.
My mother was dressed in fifty shades of black head to toe. She was weeping into my father's broad chest as he stroked her back, shushing her as her tears soaked the shoulder pads of his charcoal black suit. My brother was wiping a single tear from his cheek.
"Why wasn't I standing there mourning with them? What were they grieving over?" I thought to myself.
My entire family was gathered around a beautiful dark chocolate colored casket. This was most definitely a funeral, but for who?  I tried extending my arms out to reach my parents, but I couldn't grasp them.
 "What was going on? Couldn't they see me reaching for them?" My mind scrambled.
It felt as if I was a magnet, and my polarity was repelling my family. My eyes scanned the environment and the group of people standing around the casket. There were towering pine trees that casted gloomy shadows, even though the sun was hiding behind brewing storm clouds. I then spotted something, or someone that caught my eye. It was a dark entity-like creature that lingered behind the casket, dragging its jagged claw over it. The creature carved two letters into the casket's surface that read, "Ed", and flashed an evil smirk at me, exposing its razor sharp teeth. And that's when I realized that this was my funeral.
And just like that, it was over. I opened my eyes and let my lashes flutter a few times before becoming conscious of the fact I was in the safety of my queen-sized bed that was covered in a sea of giraffe print fleece blankets.
 "It was all a terrible nightmare, he's not here". I quietly said to myself.
I could sense that I was drenched in a warm coat of sweat, which I found odd considering I was usually shivering (due to my extreme levels of low body fat), not sweating. I kicked off the blankets to expose my frail, skinny body to the atmosphere of my room. I stared at the spackle textured ceiling for a few brief moments, pondering the vivid nightmare that had just occurred moments before.  I began to take as deep of an inhale that my body could handle but immediately paused when I heard a satanic voice whisper, "That's what you think".
My eyes widened with fear. I knew Ed's presence was in my room, but I was too afraid to look. I curled up into a ball, pulled the covers over my head, and shoved my head underneath my pillow to feel a sense of security. I just couldn't ever escape the nightmare that had become my reality.
I have always believed that every dream the human body experiences is for a purpose. And here I lay, a weak and fragile 89 pound girl. I couldn't tell if the nightmare was sending me a message or not, because I had dreamed of my soul finally being put to rest for years. I wanted nothing more than to finally be released from the overbearing wrath of my eating disorder, and the only opportunity for escape I ever saw was death. There was something about this particular nightmare that was different. My brother never cries. I haven't seen him shed a tear since his diaper days. This was most definitely a sign, and not just your average magic eight ball sign. My dreams have never gone to the extent of taking place at my own funeral. I wasn't sure if I should trust my gut instinct about this dream and do something to stop it from becoming a reality, or just let it be. I was beyond exhausted, mentally and physically. My body had begun to eat itself away, leaving nothing on me but a sheer layer of skin over my deteriorating bones. Too weak to stand up out of my bed on my own, I was on the verge of surrendering to the 6 year battle with Ed, my eating disorder. How could I possibly do something about this dream if I couldn't even arise from my bed?
The next day, my mother and I had just returned from a doctor appointment that was to initially investigate why I was losing my hearing abilities from my right ear (yet another effect of my eating disorder). I went into that doctor appointment looking for an answer about my right ear, but came out awaiting the phone call for approval to be an emergency admission to Children's Hospital of Wisconsin. With our hands tied until we heard the verdict, all my mother and I could do was play the waiting game. Waiting turned into wandering, and we eventually ended up aimlessly strolling around the aisles of a Hobby Lobby craft store. As we wandered, Ed's voice trickled into my head. He had convinced me that I wasn't going to get approved to be admitted to the hospital.
"You're not sick. We have another ten pounds to lose. Get rid of those, and then maybe I'll let you go back to the doctor. You can rest when you're dead." Ed commanded.
Naturally, I believed him. Believing and listening to him was my norm now, and it had been for so many years. I began picking out some new pastel paints to begin a new art project with. I've always loved arts and crafts; Its very therapeutic for me. I found myself checking out the variety of paints that filled the shelves, and suddenly, my mom's phone rang. We both stopped in our tracks to stare at each other for a brief moment before she answered. She listened to the doctor ramble on, but glanced at me to give me a single nod. It felt as if the pit of my stomach dropped all the way to my feet. I collapsed to my knees and sobbed tears of a waterfall of emotions.
 "You're NOT going. Do you hear me? You cannot give up our control. We're in this together, and I'm not going to let you go. I'm not going to let them make you fat. You think life sucks now? Just wait until they make you fat, oh just you wait, Lauryn," Ed screamed at me within my own mind.
I couldn't tell if I was angry or excited. Ed was the one who was angry, but the real Lauryn was secretly excited to be given a chance to finally divorce Ed for good. As Ed continued to mentally scream at me, I squinched my eyes shut and pushed his presence out of my head as my mother cradled me in the safety of her arms. It was all over. I was going to be okay.
Although I have struggled with an eating disorder since I was 10 years old, 5 years ago, I was officially diagnosed with anorexia nervosa. I never thought I would endure what I did at Children's Hospital. I never in my wildest dreams imagined a team of physicians holding me down as they attempted to shove an NG feeding tube up my nose six times. I never thought I would ever have to take an anxiety pill before I would have to eat. I never thought I would be unable to walk on my own. I never envisioned being transferred to an inpatient treatment center. Most of all, I never imagined being faced with life or death at a frail eighty-nine pounds. I thought it would never happen to me, that I would never be a victim to a statistic.
Every single morning, I dedicate five minutes of silence to think about the scared, eating disorder stricken girl that I once was. I think about how she dreaded waking up at 3 a.m. to begin the first of four exercise sessions that day. I think about how she could barely manage to eat 30 calories a day. She counted the caloric content of every morsel that went into her mouth, even the gum she chewed. I think about how she absolutely dreaded going to school because of how cruel people were about her struggle. Most of all, I think about how that girl was me. I never imagined recovery being as challenging as it has been. It's not a walk in the park. It's a daily fight. A fight that requires constant effort and strength, even on the days where giving into Ed seems easier. Sure, it would be easier, and yes, there have been many relapses within these last four years. As contradicting as it sounds, relapses are a vital part of recovery. They teach you how important it is to hang on tighter when you just want to let go.
I have built my body from rock bottom up. I have spent countless hours rebuilding my once broken body in the gym. I have fought for every pound, every meal, every day. I have searched for something that would truly save me on my darkest days; Something that wouldn't come with a deadly price tag. One year ago, I realized what that certain something was.
Powerlifting.
I have refused to go on antidepressants my entire life. I will not cover up the issue with a band aid. I will not put something into my body that masks the real damage. Iron is better than any antidepressant any doctor could have ever prescribed. There is no better way to fight weakness than with strength. My body and mind have been awakened with true potential, and I am never turning back. Unlike Ed, the iron has never lied to me. The weights have proven to be more than just a number. Yesterday, I proved that I am more than just silly damn number.
Since I have returned to my roots powerlifting, many things have changed. I have gone from 89lbs of darkness to 133lbs of pure burning fire. I have realized that food truly IS my friend. I have accepted that gaining weight is OKAY and NECESSARY and doesn't always mean just gaining fat weight. I have gained so much more than weight. I have gained incredible people in my life who have changed the way I open up and view people. On September 16th of this year, I competed at my 2nd USAPL sanctioned meet at Pure Fitness in Mequon, WI and ended up taking home 1st place, finishing with a 705lb total, a Wilks score of 377, and a 347lb deadlift. I plan on competing at the Wisconsin Raw State Championships in January of 2018.
After a decade of seeing nothing but darkness, I am finally beginning to see a light in this tunnel. Thank you to everyone for all of the constant support, love, and encouragement. I wouldn't be here today without all of you. I couldn't have survived these last ten years without the constant support from my incredibly loving family. I am eternally grateful for the sacrifices they have made for me. If you're reading this, I give thanks to you as well. If you care enough about me to read about my struggles and strides in recovery, I give thanks to you. Thank you to my entire powerlifting family, and anyone and everyone who made this website feature possible. Powerlifting is more than just lifting weights. It's about family and passion. This is just the beginning for me, ladies and gentlemen. I am a woman on a mission. I am strong. I am worthy. I am a warrior.
If you'd like to stay up to date with things happening in my life, please visit my blog, or check out my Instagram account.