2018 USA Powerlifting High School Nationals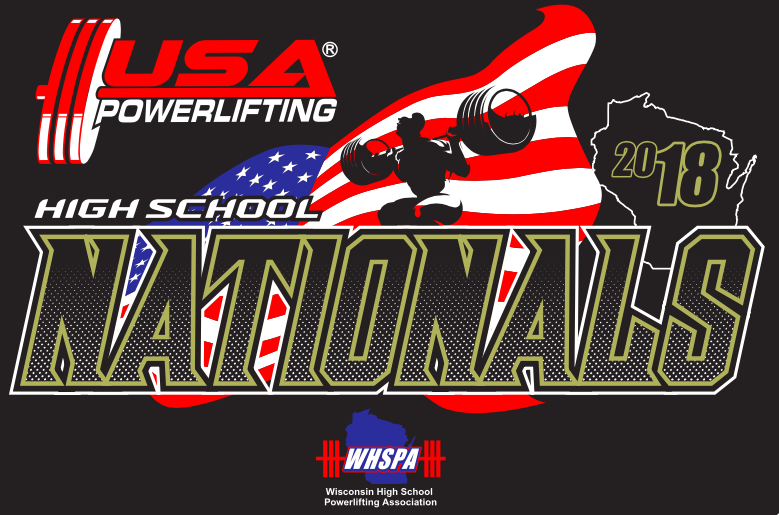 Proudly hosted by the Wisconsin High School Powerlifting Association (WHSPA)
Check out below for information on competition and streaming, hotel reservations, how to volunteer, links, FAQ, and the coaches corner
Competition & Streaming Information
2018 USA Powerlifting High School Nationals in downtown Appleton, WI at the Radisson Paper Valley Hotel.  Below you will find hotel information.
Live stream link: http://www.usapowerlifting.com/live/
Sanction# NS-2018-05
Thursday March 22 kickoff evening session
Friday March 23 two sessions
Saturday March 24 three sessions
Sunday March 25 two sessions
PDF Revised Schedule (3/15/18)
Count down until first lifting session begins!
Sponsorship Opportunities
Interested in showing your support of this national level USA Powerlifting championship as a sponsor and contributor to our mission to create the best competition atmosphere for the teenage athlete-student drug-free powerlifter.  We invite you to take a look at the opportunities.
Registration – Athlete-Student
Registration is open until February 19, 2018 11:59 PM CST.  Athlete-students must read and complete registration with their parent/guardian.  All must register here – there are no exceptions.
Public Roster for 2018 High School Nationals!
Admission Prices
WEEKEND PASS –THURSDAY & FRIDAY ONLY $50
Born before 01/01/1957? $45
Born on or after 03/01/2007? $35
1 Red/White/Blue WRISTBAND
4 DAYS OF ADMISSION (Thurs, Fri, Sat & Sun)
No exceptions or substitutions
Replacement bands are $5 with original turned in.
Daily Admission
$15 ADULT
$12 SENIOR (born before 01/01/1957)
$8 KIDS (born on or after 03/01/2007)
Competitor Admission
At this year's high school nationals the competitors will receive a photo ID to be worn after completing the initial check-in process. The initial check-in process confirms identity with corresponding photo, birth date and current USA Powerlifting membership within the high school category. Once this step is done, the competitor only has to show the competitor ID at equipment check, weigh-ins and access to the competition areas.
Competitor's entry fee covers all weekend as long as they have their lanyard and photo ID on them.
Individual entry fee is $90 from the day registration opens to the day it closes.  No escalating entry fee or early entry fee.
Competitors will be able to obtain their rack heights for the ER rack and enter them in once they are at the venue online.
Merchandise
Information regarding purchasing of merchandise is available on this pdf.  Hoodies will only be available online and not at the competition.  Tees will be available online and at the competition.  Purchasing in advance guarantees your size(s) and availability.  Pickup your pre-paid items as the competition.
Documents (coming in the future)

High School Nationals is hosted by the Wisconsin High School Powerlifting Association (WHSPA) and is sanctioned by the USA Powerlifting association, an affiliate member of the International Powerlifting Federation (IPF).
The competitors are members of USA Powerlifting between the ages of fourteen to nineteen year old high school students.  All competitors will have met or exceeded qualifying totals at sanctioned USA Powerlifting competitions within one year of the event. There are two competition categories; junior varsity (JV) for freshman and sophomores and varsity (V) for junior and seniors. Underclassman may be elected by their head coach for varsity level competition.
The venue is Radisson Paper Valley Hotel in downtown Appleton..  We have a negotiated rate for this competition.  Be prepared to provide the number of rooms needed along with credit/debit card information.  Before contacting the Radisson Paper Valley, read this information first.
Who is going to be in the house?! Wisconsin, Michigan, Louisiana, Pennsylvania, Texas, Florida, Illinois, Maryland, California, Nebraska; both equipped and raw.  The list of states will definitely grow as we get closer. All entries will be accepted on-line only with debit or credit card.  Head coaches of teams are encouraged to contact us should there be concerns regarding this type of format.
Placing 1-5 for individual scoring.
USA Powerlifting experiences some of the fiercest team competition at this annual event.  High school teams will work towards female varsity and junior varsity, male varsity and junior varsity, combined (female and male) varsity and junior-varsity awards.  All team rosters must be turned in before the start of the Thursday March 22 session.  No exceptions.  Final scoring will be done on Sunday March 25 as the competition ends for both the raw ans equipped divisions.
Here is a document that outlines the team scoring.
Check out the frequently asked questions (FAQs) section for more information.  Still doesn't have everything you are looking for? Send an email through the contact us form.
Those attending the event as competitors, coaches, USA Powerlifting officials, volunteers and fans can expect a great event with all of the best under one roof in Wisconsin.
Tonya Lambeth, Joe Lewis, Dennis Smits
WHSPA Representatives & Co-Directors
Want to learn about news as it comes available?
Sign up for text alerts!  Your phone number is not shared with any party including the meet director.  The messages could affect your data plan.  Timely, quick, helpful messages on your phone right up to and through the competition.
Check out the Facebook event page to share with family and friends.
Hotel Reservation and Venue Information
Please read this PDF for information regarding hotel room options, rates, and how to make reservations.
Here is a one-page PDF with information about getting to Appleton, WI.
Volunteer Opportunities
Are you interested in helping out with the 2018 High School Nationals?  Sign up here!
Links
FAQs
Q1  How can I qualify for nationals?
You must have a total from competing in a USA Powerlifting sanctioned contest meet on or after January 1, 2017 and before February 18, 2018.  Registration closes on February 19, 2018 at 11:59 pm CST.

Q2  Where can I find the qualifying totals?
On the USA Powerlifting website (will need to scroll to the bottom of the qualifying total box for High School Nationals).  They can also be found here as a PDF.

Q3  What are the weight classes for this contest?
The weight classes listed in the USA Powerlifting rulebook, based upon the IPF weight classes.  
Q4  Where I can find a sanctioned USA Powerlifting contest?
USA Powerlifting Powerlifting Events page
Q5  Can I wear my favorite socks?
Yep – as long as they are long enough to reach the bottom of your knee cap for deadlift.  If they are shorter socks, wear in squat and bench and find another lucky pair.  PS: please give them a bath before traveling to Wisconsin.
Q6  Will there be live streaming?
You betcha!
Q7   I heard there is going to be three platforms running every day.  True?!
Oh yes!  We know there are lots of strong teenagers in the US who will be at the meet and we will be ready.
Q8   What is the WHSPA?
WHSPA stands for the Wisconsin High School Powerlifting Association.
Q9  What does 'IPF qualifier' stand for?
Good question! Thanks. For the USA Powerlifting Sub-Junior Team as Well as the NAPF Sub-Junior Team. There is a selection process in place to select from multiple divisions and multiple championships.  This competition is one of them.
Q10   IPF?  Tell me more about this please.
IPF stands for the International Powerlifting Federation and USA Powerlifting is a member federation.
Q11  Is there a Facebook page for high school nationals?
Yes!
Q12  What about IG?!
@18hsnats
Q14  Text message alerts – can my mom or dad sign up too?
Absolutely!  Anyone who wants quick, brief messages to their cell phone can sign up. The messages can affect your data plan.
Q15  Where can I get an entry form?
All entries will be on-line, check out instructions here.
Q16  If I graduated high school in December (of 2017), can I compete?
No.
Q17  Do grades matter?
Absolutely.  All competitors will have to provide proof of good standing from their school.
Q18   I train at a local gym.  Can I compete in a USA Powerlifting contest?
Yes, compete at a sanctioned USA Powerlifting contest and have a total that meets or exceeds the qualifying totals for high school nationals. Be sure to let the meet director know you are hoping to qualify and the results need to be posted on-line for verification.
Q19  Verification of my total? Really?!
Yes, everyone who enters the contest will have their total verified against the USA Powerlifting results on-line database.
Q20  How do I buy a contest t-shirt?
We will be selling contest t-shirts and hoodies online.  Check back for the link here. Merchandise will also be sold at the competition in limited quantities so we encourage you to purchase here and we will have your order waiting for you at Athlete Check-in when you arrive.
Q21 How do I qualify for Sub-Junior or Junior Worlds?
The criteria for selection for sub-junior and junior national teams to compete at international events can be found on this PDF.
Coaches Corner
This section is intended for use by the coaches accompanying competitors of this contest.  The documents provided here are to help with organization prior to arriving in Appleton.  At registration and throughout the competition, we are striving for a good smooth experience.
ALL coaches must be a current open USA Powerlifting member when submitting the team declaration forms. There are no exceptions.  Please purchase your membership before March 5th  to receive the two emails containing the receipt and membership card within.
On-line registration this year and a list of the competitors available publicly for all to review are two items that haven't been offered before.
This year we are providing a few documents here to help you out (some coming soon):
Coaches checklist
Revised schedule (3/15/18)
Academic good standing form (also emailed to all registrants)
High School Nationals team declaration form
Pre-Meet Registration Changes
Q: Can the head coach move a competitor from JV to Varsity any time after high school nationals registration information / entry form is received? Or move from V to JV if in the freshman or sophomore class?
A: As long as it is declared before the competition starts on Thursday March 22th (12:00 pm).
Q: Can I change my competitor's weight class at the contest?
A: Please read point #7 of the section 'Weigh Ins' in the USA Powerlifting rulebook on page 34.
Any questions or corrections to the competitor data, please contact Tonya L. directly.
Last updated March 22, 2018 (SR).