HOMETOWN: Hales Corners WI
SCHOOL: Whitnall HS 10th grade 15 years old
Athletic Accolades for '12-13 Season:
1st place 114 lb. class in two Wisconsin High School Powerlifting Association (WHSPA) regional contests, winning 'best overall lifter' award at each
1st place 114 lb. class at the WHSPA State Championship (USAPL sanctioned) with another 'best overall lifter' award
1st place 114 lb. class USAPL HS Nationals in Denver, CO and 2nd place 'best overall lifter' award
1st place 125 lb. class USAPL Women's Open in Orlando, FL 2013 and 1st place best overall lifter award
2nd place 125 lb. IPF 13th Sub-Junior World Championship in Killeen, TX.  Also won a gold medal in the squat, bronze medal in bench and silver medal in deadlift.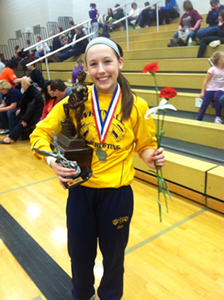 I started lifting nine months ago, after the Whitnall HS Powerlifting Coach saw me at orientation. RG Luckow knew I loved softball; so to win me over, he sent me a three page email to tell me how powerlifting would improve my fast pitch.  I thought I would try it and see what powerlifting was all about. Like a lot of teenage girls I didn't want to "get big".  I am not "big" – I am strong.
At my first meet I didn't make my weight class (114), I was less than .5 lbs. over so I had to move up to 123 weight class. I won 1st place and best overall lifter (Wilkes calculation). From there I was hooked. I later learned that I had to pay attention to my nutrition!
As a freshman I had to leave the HS softball team due to inclement weather and training for the USAPL Women's Open in May.  The HS softball coach was in a position where they would be playing 21 games in two weeks. It was the hardest decision I ever made.  But it was the correct decision for me.
My best meet was Women's Open. I went 8 for 9 with each lift a 'personal best'.  It secured my spot for the IPF Sub-Junior World Championship. My worst meet was HS Nationals where I went 4 for 9 but I still won 1st!  I still cannot believe that I made it happen. I learned that nerves are just a waste of energy at that meet.
I owe everything to the Whitnall powerlifting family. The head coaches, RG Luckow and Scott Schubert, never gave up on me.  I started lifting with the boys and never looked back.  The powerlifting family ties are so strong that our assistants are all past Whitnall lifters. I work most closely with Dustin Devine and Matt Klein who are my mentors. Both are Whitnall graduates and they take time away from their college studies to come back and help coach.
While preparing for Worlds, my head coach RG Luckow was out of town for work.  He hooked me up with the Kasabuskes, Erik and Kat, who both are world competition level powerlifters in the USAPL.  I have had so many good role models and met so many neat people from powerlifting. I am very blessed.