I got my start in lifting as a 7th grader when my older brother took me to the high school's summer strength and conditioning program in Superior, WI to help me get faster and stronger for football. My freshmen year our high school got a new head football coach who was also a former powerlifter. I continued to strength train under his direction really getting hooked my freshmen year even though I wasn't very strong and only weighed 115lbs. He created a club powerlifting team at our high school and I did my very first powerlifting meet my junior year in high school. My senior year in high school I took 2nd at the WI State high school powerlifting meet in the 181lb weight class with a 1200lb total.
I continued to lift in college but much of my focus was playing football for a year and baseball for 3 years at Carleton College. After making the decision to not play baseball my senior year in college I decided to switch my focus back on powerlifting. I did my first meet my senior year at the MN State Meet lifting raw and totaling 1405lb in the 220lb class. I continued to compete and put on weight and won my first national meet at the 2012 Raw Nationals in the 242lb weight class earning a spot on the world team for the 2013 IPF Raw Worlds. With the new weight classes I cut down to 231 and took 10th at worlds. 5 weeks later I had my best meet to date at the 2013 Raw Nationals totaling 1708lbs in the 231 class, taking 2nd place.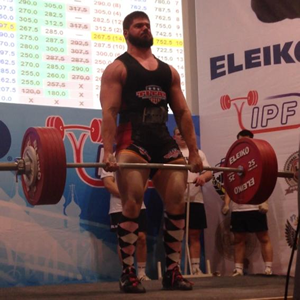 Powerlifting has meant a lot for me over the years for many reasons. Initially it started as it does for many people, a way to improve for sports. After college it became a way for me to still compete at a high level without having to be on a college program. Over the years I have met many people and created friendships with other lifters close to home, across the country and even around the world. I have been fortunate enough to have some success in this sport but at the same time it's very humbling as there's always someone out there stronger than you and there's always more weight to put on the bar. I hope to compete and improve for years to come.